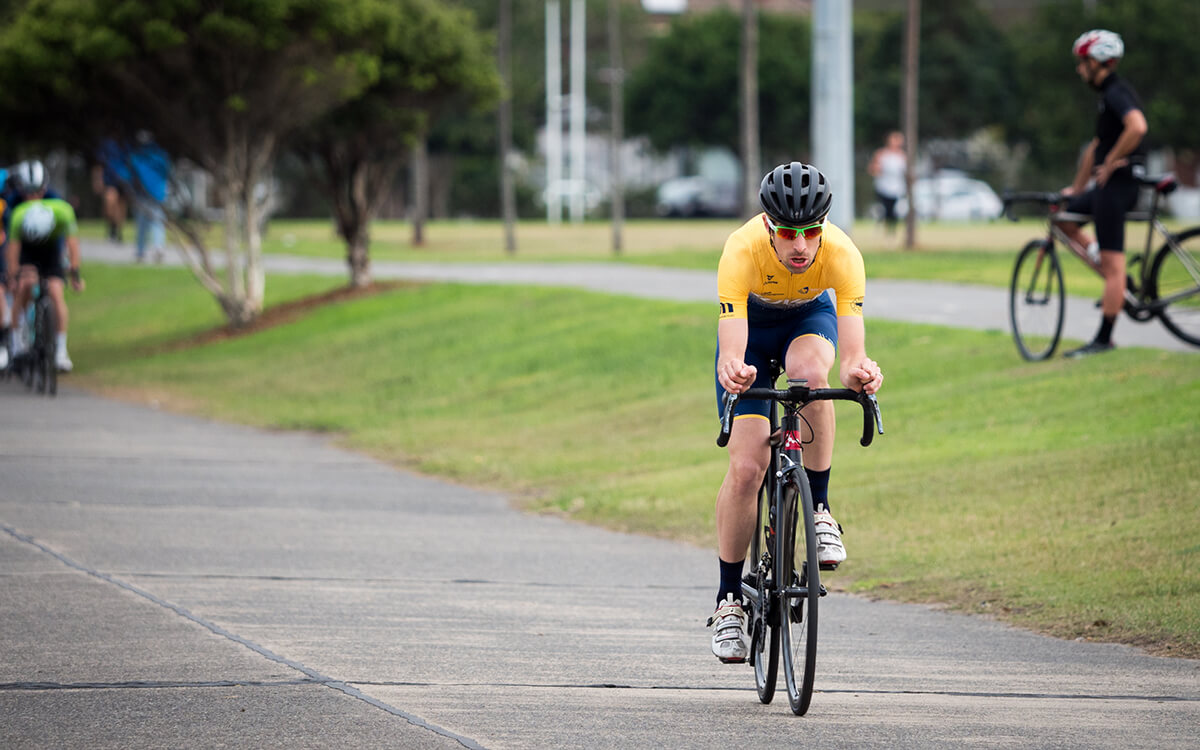 Meet Sydney Uni Velo Cyclist David Glick
Please meet Sydney Uni Velo cyclist David Glick. Originally from Washington DC, USA. We asked David about his cycling, inspiration and more in our latest Q&A.
Staminade: How did your love of cycling begin?
DG:  Mountain biking as a kid. I loved getting out in nature and pushing myself to keep up with the faster kids. I eventually got a bright green Klein (fully rigid) and rode that thing into the ground.
Staminade: What are your top 5 tips for young aspiring cyclists?
DG:
Ride with the fast guys. You'll get dropped at first, but then you won't.
Have fun! Don't stress about getting faster, if you keep having fun on the bike it will come.
It's not about the bike. You don't need a fancy bike to go fast.
Do everything. Don't limit yourself to one type of riding — do hills, crits, track, mountain biking, cross — it's all good fun and will make you better.
Find a good group. It's always more fun to ride with some mates!
David's Successes and Goals
Staminade: What has been your greatest success to date?
DG:  I raced seriously in the US for 6 years. During that time, I had a few decent results and got to ride some big races. My best memories of racing though were helping my teammates achieve big results and move on to the next level. It's really cool seeing former teammates and athletes I coached at the top level of the sport.
Staminade: What's your ultimate cycling goal?
DG: At this point, my main goal is to stay healthy and have fun on the bike. I still have that competitive itch though and would love to win a race here in Australia or at least get a good local KOM!
Staminade: Who was your role model as an aspiring cyclist?
DG: Of course, there was a certain guy from Texas who was a big deal when I was starting out, but I hesitate to call him a role model. Really, my motivation was just wanting to be able to ride with the big boys in the local scene.
Staminade: What's your pre-event routine?
DG:  It depends a bit on the event, but I like to get to the race early, take care of sign-in, then cruise around a bit. If it's a crit, I'll do a few high-cadence efforts to get the legs going. I always bring an extra bottle for riding around before the start so that I can stay hydrated and still have a full bottle (or two) for the race.
David's Training
Staminade: How does a typical training week look for you?
DG: These days I have a real job, so I try to focus on quality over quantity. I'll do two weekday rides of about 2 hours each, then get out for longer rides on the weekend. I love the climbing in RNP and Ku Ring Gai, so I try to get out there whenever I can.
Staminade: Favourite part of training?
DG: Going hard with good mates and then eating a ton of food!
Staminade: Hardest part of training and how you overcome the challenge?
DG: Waking up early to beat the Sydney traffic. Coffee helps, but more seriously, I try to remember that I'm always glad once I'm out there on the bike.
Staminade: What's your favourite flavour of Staminade?
DG: Lemon lime!
Staminade: Staminade's tagline is 'First Aid for Thirst'. What does this mean to you?
DG: Dehydration and cramping is a big problem in cycling at all levels and in all seasons. Staminade is a great way to solve it!
Find out more about Sydney Uni Velo here: https://suvelo.com.au/
You might also be interested…
Originally from New Zealand, Sydney Uni Velo cyclist Aimee Armstrong talks to us about her love of cycling and how she went from motorcycles to cycling.