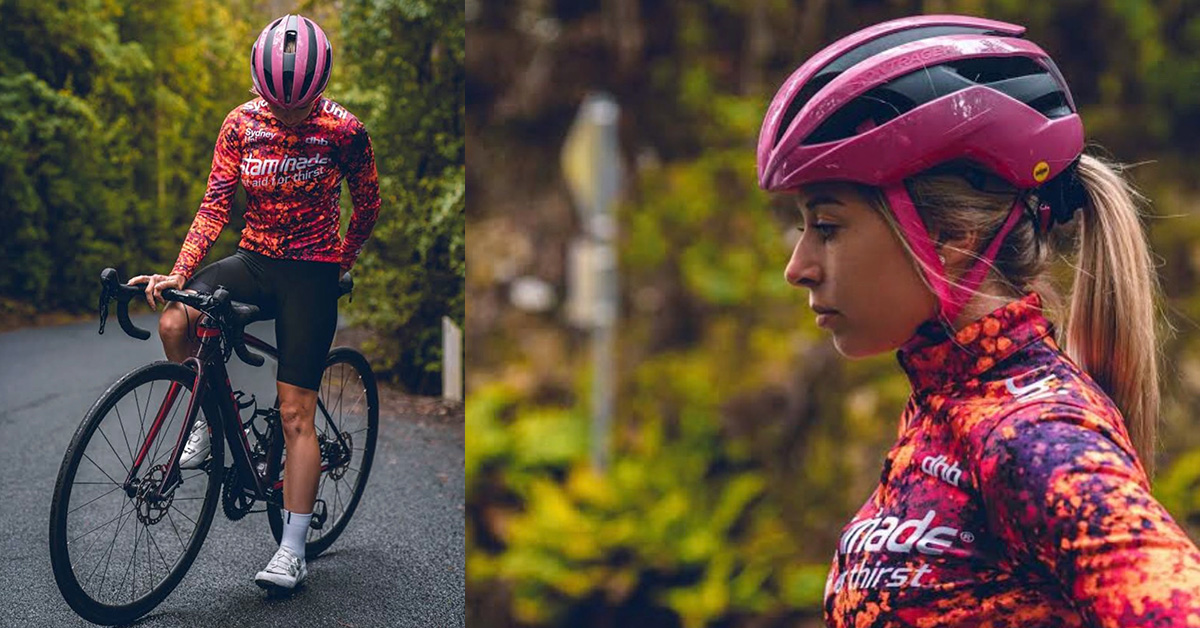 Staminade Welcomes Cyclist Nicole Frain
Introducing Nicole Frain
Welcome to the newest member of the Sydney Uni – Staminade Women's Cycling Team, Nicole Frain.  Based in Tasmania, Nicole brings a strong endurance base to the team and loves a climb. After a racing stint in Europe, followed by an impressive 2019 National Road Series, Nicole is ready for the year ahead. We asked Nicole more about her cycling and inspiration. The team at Staminade welcomes cyclist Nicole Frain.
How did your love of cycling begin?
Nicole: "I first started cycling after I took up triathlon for a year. Unfortunately, triathlon didn't work for me with a string of injuries from running. I loved the bike and decided to pursue that. I love the feeling of achieving something physically"
Top Tips for Cyclists
What are your top 5 tips for young aspiring cyclists?
Nicole: "You have to have fun. Enjoy it because if you don't it can be a lonely sport. We spend a lot of time training.
Remember to have a social life and invest in yourself outside of cycling. Cycling and any sport isn't forever, so enjoy the time but also invest in yourself whether that be education, travels or other interests. There is a life after cycling.
You will have bad days. You cannot be on all the time. So there will be bad days, bad race days and hard training days and that's okay. Just remember that every day is a new day too.
Train hard, it will make race day easier. Every hard session you put in makes race days easier. So, train hard to get the most out of yourself.
Train smart. You can do all the hard work but that can be undone by not listening to your coach or being smart. When it's a recovery ride, recover, when it's a 1hr session don't do two. Recovery and refuelling are part of training so eating and sleeping well are important to be on top of."
What's it like to be a female athlete in today's society?
Nicole: "Great! I think women's sport is just becoming increasingly supported and understood by everyone. I have always felt very supported by other women and the men including other male cyclists. It's a great time to be a female in sport."
Nicole and Cycling
Successes and Goals
What has been your greatest success to date?
Nicole: "Second at Oceania's Individual Time Trial 2019."
What's your ultimate cycling goal?
Nicole: "To make world tour level and race for a pro team."
Who was your role model as an aspiring cyclist?
Nicole: "Coming into the sport I honestly didn't know anyone. So, I didn't aspire to be anyone until make the last year when I have become more aware of who is who is the world of cycling. At this stage close to home Sarah Gigantte is very inspiring."
What's your pre-event routine?
Nicole: "Morning would be to just make sure I eat a good breakfast, nothing too fancy I like to keep it simple race day especially if I have pre-race nerves so eggs and rice. I would already have my race bag sorted to ease stress too. I do get nervous about timing, so I like to get to a race earlier than later, being there also eases nerves if I have them. I like to have a snack 1-2hrs out and then a trainer warm-up. Gel on the start line and away we go. Nothing too fancy."
The Training
How does a typical training week look for you?
Nicole: "Monday is often recovery day. Because I work, we normally train around 3pm or lately I have been doing some split morning and evening rides. The weekday will split intensity if I have split ride days or miles if I'm in a build phase. Weekends are often bulk kms or race days."
Favourite part of training?
Nicole: "Seeing a massive week or session and thinking you won't be able to do it then achieving it. It's really satisfying."
Hardest part of training and how you overcome the challenge?
Nicole: "Sometimes training in the arvo like I do is really hard work. A rainy or colder day can make it really unappealing to get on your bike. But to overcome it really, I just have to get it started then I'm alright. It makes these sessions even more satisfying when done knowing I didn't want to do it."
Cycling and Staminade
What's your favourite flavour of Staminade?
Nicole: "Wild Berry"
Staminade's tagline is 'First Aid for Thirst'. What does this mean to you?
Nicole: "It means how important hydration is. Performance is strongly linked to hydration levels and thirst is an indication of dehydration. To me it means making sure this doesn't happen."
You might also be interested…
No Results Found
The page you requested could not be found. Try refining your search, or use the navigation above to locate the post.