Gina Ricardo – Sydney Uni Women's Cyclist
As a child Gina would spend her school holidays riding bikes her family. Her passion for cycling continued to grow as she grew older, which inevitably lead her to join the Sydney Uni Velo club. Now with the Sydney University women's cycling team, Gina is looking forward to a full NRS season.
Staminade: How did your love of cycling begin?
Gina: "Growing up I would spend my school holidays riding bikes with my Aunt, my Grandma & my cousins. I think this made me associate the bike with having fun! I've always enjoyed riding my bike and using it as a means to get from A to B. I'm a very competitive person, so after joining the Sydney Uni Velo club, progressing to racing was probably inevitable."
Staminade: What are your top 5 tips for young aspiring cyclists?
Gina: 
Always have fun, when it stops becoming fun, evaluate the why or re-connect to what makes it fun for you.
Don't worry about the results, focus on the process/journey – work hard & the results will follow.
Find a group of like-minded people to train with. Training is so much easier & fun when it becomes a sociable activity.
Don't let cycling become your whole world – live a balanced lifestyle – don't miss your friend's birthday or a wedding because of a bike race – there will always be more bike races!
Don't be afraid of getting dropped! If you want to race, just go & do it, and have fun – racing is the best training.
Staminade: What's it like being a female athlete in today's society?
Gina: "We're progressively starting to see some gender parity in the sport. A lot of major races (like the Tour down Under and the Women's Tour of Britain) are now offering equal prize money and locally we are seeing more women's races on offer, but the truth is that the numbers and participation levels are just not there yet for it to be truly equal. The elite level of our sport is a very sad state of affairs. There is no minimum wage, a lot of girls racing as 'pro' in Europe are getting paid as little as 5,000 euros a year, if they are getting paid at all. To be a female pro cyclist is a hard lifestyle with a lot of sacrifice.
On a more positive note, I think we're in an exciting time where we are seeing a lot of change, not just in cycling but also in other women's sports like the AFL, Netball & Cricket. For me just comparing the support we are getting this year compared to when I started racing in 2013, it's improved in leaps and bounds. And if you compare this again to 10 years ago, again it's even greater leaps and bounds. I'm incredibly grateful to our sponsors – especially our major sponsors Staminade & Sydney University, for giving us the opportunity to do what we do."
Staminade: What has been your greatest success to date?
Gina: "I don't really have any major wins greater than at state level, but I'm really proud that I've been able to compete in 4 UCI races across this year and last, and more or less hold my own against the professional girls who race full time. I'm also proud of completing four Tour de Timor races – a 5-day mountain bike stage race in East Timor, where you race 3-6hrs/day in very harsh & hot conditions, camping each night. For some reason I have signed up again for my 5th this year! The racing and the living conditions are so hard due to the mountainous terrain, lack of infrastructure and the hot climate; it's a very rewarding feeling and huge sense of personal satisfaction to just complete the Tour, regardless of position. Every Tour finished definitely feels like a major success!"
Staminade: What's your ultimate cycling goal?
Gina: "I think it would be to be competitive as a GC rider at national level in the NRS races, and to finish with a Top 10 at Nationals. But it's a lot of hard work to get there! Ultimately, I want to continue to be able to train, race, win bike races and love what I'm doing, whilst balancing my full-time job & being able to spend time with my partner & family."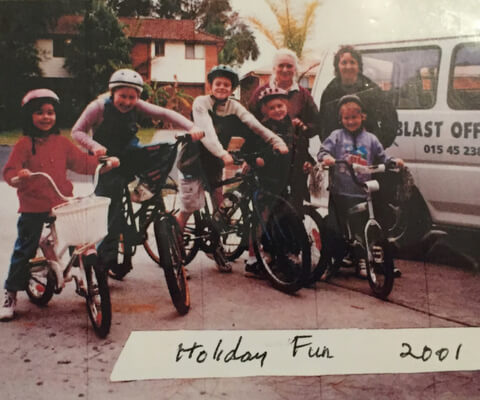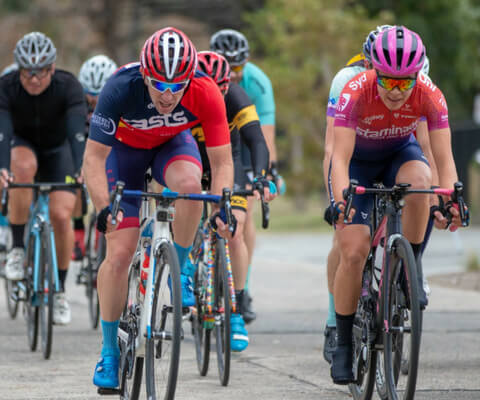 Staminade: Who was your role model as an aspiring cyclist?
Gina: "This feels like a bit of an odd question, as a lot of the girls I looked up to, I got to race against at the Tour down Under in January! But I really looked up to Marianne Vos when I first started racing. She was just winning everything on a world-level – road, track, MTB, Cyclocross. She's a total girl boss on the bike, and also comes across as a very decent person off the bike too."
Staminade: What's your pre-event routine?
Gina: "If it's a big race I like to treat myself to a remedial massage about 4 days before the event. Then: a high-carb meal the night before, a good night's sleep and a coffee in the morning!"
Staminade: How does a typical training week look for you?
Gina: "It depends on the time of year and periodisation of my training program. During summer it typically is:
Monday: Gym session in the morning + 1hr recovery ride
Tuesday: 1hr ride in the morning, criterium race (2hrs riding) in the afternoon.
Wednesday: 2-3hr endurance ride
Thursday: gym in the morning, commute to work, interval session on the trainer in the evening.
Friday: 2hr recovery ride
Saturday: race or 4-5hr ride
Sunday: race or 3hr ride."
Staminade: Favourite part of training?
Gina: "Coffee time with mates post-ride"
Staminade: Hardest part of training and how you overcome the challenge?
Gina: "Consistency, and keeping motivation all year round. It's very hard to find time when you're training, racing, working full-time and also trying to spend time with your partner & family. The key for me is:
Setting goals: having an event to target for motivation.
Socialising on the bike: training & going to races with friends/teammates so it's not a chore, it's fun.
Learning to listen to your body: knowing it's ok to skip a session if you're smashed from work and just too tired. The whole point of training is to recover so you come back stronger; if you're too run down, then the benefit is lost.
Making cycling fit around my life: I try to creatively make my training fit around my life. For example at Christmas I'll ride to my family's Christmas dinner on the Central Coast; this way I get to sleep in on Christmas day, have a Christmas lunch with my family and save time by using the hour I would've spent in the car on the bike instead – it only takes 3hrs longer to ride there, right?!
Doing other non-cycling outdoor things like going for a hike or a body-surf to give myself a mental refresher."
Staminade: What's your favourite flavour of Staminade?
Gina: "Orange Blast! "
Staminade: Staminade's tagline is 'First Aid for Thirst', what does this mean to you?
Gina: "To me it means that Staminade's got my back! We race in some pretty hot conditions, hours at a time – cramps are always a concern. When you're de-hydrated your performance also goes downhill rapidly. Staminade tastes great, keeps us hydrated and keeps the cramps at bay!"