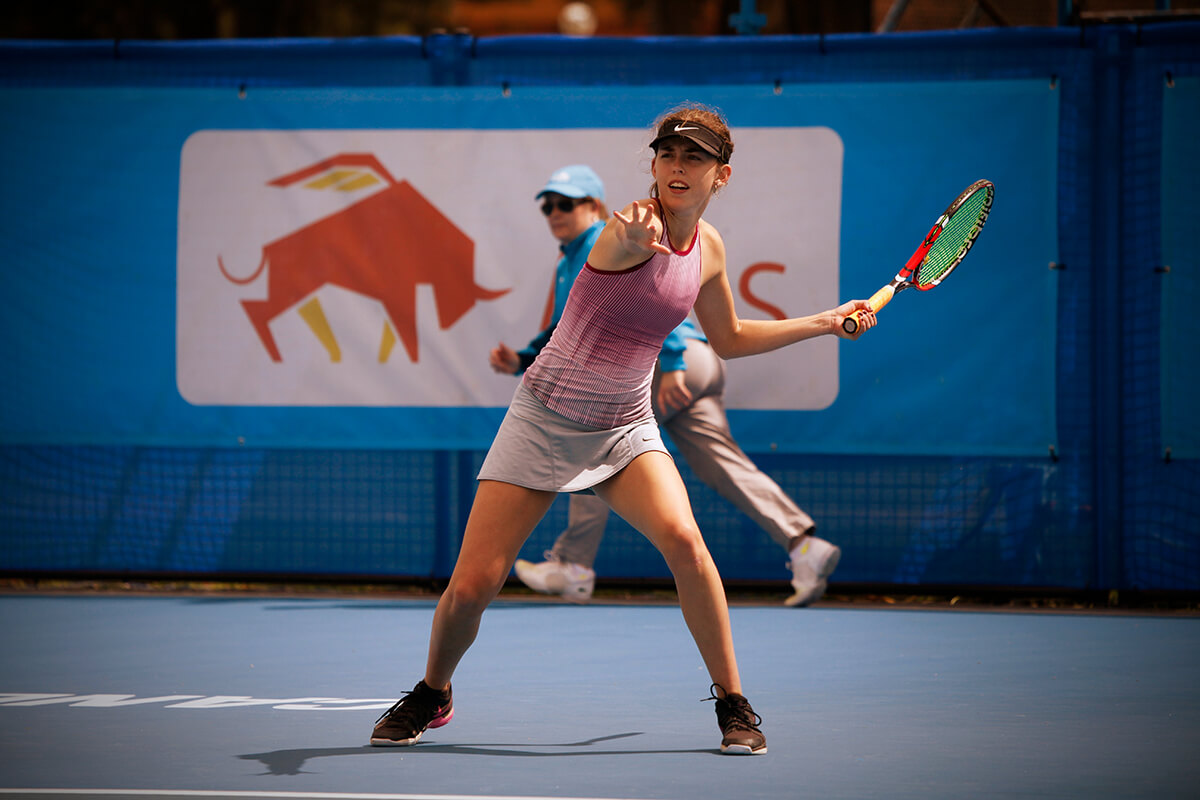 Q&A with Tennis Player Kelsey Lewis
Introducing Kelsey Lewis
Kelsey Lewis is one of the latest junior stars to catch our attention here at team Staminade. We caught up with Kelsey before she went overseas about her tennis, training and the future.
Staminade: How did you become involved in Tennis and how old were you when you started?
Kelsey: "I started lessons as a 6-year-old on a Saturday morning at the local Tennis club, Nepean District Association. My parents thought it would be good to learn the sport, as they believed that it is a sport that you can play all through life, whether that be competitively or socially, that's when I realised this is something I want to do in my future."
Staminade: You are currently ranked in the Top 5 in NSW for your birth year. Congratulations! You also obtained a junior world ranking in your first attempt playing overseas. Tell us more about these.
Kelsey: "Thank you! It was a great and nerve-racking experience playing for the first time overseas and I couldn't have asked for a better result than a junior world ranking! I am extremely happy to be recognised as in top 5 in the state for my birth year and it's great to see all my hard work gaining results."
Staminade: What does your day to day training include for you? We hear you train 6 days a week! That's dedication!
Kelsey: "My day to day training includes an hour in the gym in the morning before school, focusing on weights and gaining muscle. After school my training switches between squad and group sessions which entail match play, intense hitting drills and unforgivingly hard fitness sessions at the end, focusing on long distance endurance, sprints and core. To private lessons with my coach John working on improving individual aspects of my game. Yes, I train 6 days a week, and I love every minute of it, the feeling of improvement and player development strives me!"
Staminade: What's your favourite part about Tennis?
Kelsey: "My favourite part of tennis would have to be competing and showcasing the skills and shots I've been training so hard to perfect. The feeling of competing in a tournament is like no other, being so focused and concentrating on myself and my game makes me feel alive."
Staminade: Hardest part of training?
Kelsey: "The hardest part of training for m, is definitely the mental side. Keeping positive all the time and believing in myself and my shots can be hard sometimes, especially in fitness and running. But I always push myself to do my personal best and strive to improve myself daily which improves my attitude to all challenges. Being mentally tough enough to keep going through the pain has helped me so much in training."
Staminade: It takes a lot of dedication in what you do, so much training, focus and time spent developing your skills. What keeps you motivated?
Kelsey: "Yes, it does, heaps of training which takes up nearly all my day, but what really keeps me motivated is the thought of the future and my future goals. As well as getting better, I also strive to look into the future and set goals that I can achieve with hard work and determination. The thought of achieving and conquering these goals, and the feelings that I would feel, keep me going."
Staminade: What's coming up for you in Tennis? Fill us in on somethings coming up?
Kelsey: "Currently I am playing a big platinum tournament at Nepean this weekend. Then I am leaving for an 11 day training block at the John Newkcombe tennis academy in New Braunfels, San Antonio. I also have qualified for the 16s Girls Nationals at Melbourne Park, which commences the day I arrive back from America. I will be flying straight to Melbourne once I arrive back in Sydney to play. In January I will be playing three back to back tournaments on grass courts in Victoria in  Shepparton, Albury and Wodonga. And speculating a trip to Turkey or Egypt for a couple of pro events during the year."
Staminade: Staminade's new tag line is "First Aid for Thirst". How do you think this relates to what you do?
Kelsey: "First off, this is a great slogan and I think this completely relates to my training and work because staminade is always my first pick during a tough session that has me feeling exhausted and sluggish. Staminade completely rejuvenates the electrolytes that I lose in all the sweat, especially coming up to summer, and it does it quickly too! Making it my first aid for thirst!"
Staminade: How does Staminade help you with your training, matches and recovery?
Kelsey: "Staminade helps me with my training and matches because the powder drinks are super easy to mix before or during matches, they taste delicious, and they revitalise my energy and electrolytes I lose in sweat and keep me going through tough training sessions or three set matches. Staminade also helps me with my recovery as sipping on it after training or a match rejuvenates my body ready for my next match."