Q&A with Sydney Uni Women's Cycling Team – Staminade
Originally from Taranaki, New Zealand, Amy moved to Australia at age 23 and started road cycling a few years later. Cycling was a way for Amy to lead a healthier lifestyle and meet new people. Racing was not her plan but with a BMX racing background it was inevitable that she got back into the sport she enjoyed so much as a kid. Now with the Sydney University women's cycling team Amy is looking forward to UCI events and a full NRS season.
Staminade: How did your love of cycling begin?
Amy: "I started racing BMX at the age of 6, and continued racing until I was 15. I then had a 10-year break where I didn't ride at all, went overseas and just forgot all about the bike. When I moved to Sydney I had been living a backpacker lifestyle for a good few years and continued this lifestyle for another couple of years – and before I knew it was tipping 79.8kg. So, I decided to do something about it and went back to the sport I loved as a kid – riding bikes. I brought a road bike and joined the local club – DHBC on a 'Saturday Slowies' ride to Centennial Park. I never planned to race but ended up going to the club velodrome that same afternoon and ended up in a track race! I was only going to watch the club racing that day – it's all snowballed from there."
Staminade: What are your top 5 tips for young aspiring cyclists?
Amy: 
Keep training fun.
Don't be in a hurry to succeed.
Don't take it to seriously to young.
Create a support network that you can trust.
Have a backup plan.
Staminade: What's it like being a female athlete in today's society?
Amy: "A lot of female athletes are juggling real world responsibilities along with the perseverance and grit required to be able to train consistently so they can race/perform. It's a long process that needs to be enjoyed because it's something you love to do and not for any materialistic gain – it's an inner thing. A lot of female athletes would need to demonstrate these qualities to be able to continue pursuing what they love to do."
Staminade: What has been your greatest success to date?
Amy: "Never giving up from Day 1, from my first ride with DHBC as an almost 80kg very unfit 26-year-old to now – racing with Sydney Uni – Staminade in the NRS."
Staminade: What's your ultimate cycling goal?
Amy: "To race more of the top-level events in Australia including the NRS and to have another crack at the UCI events in January. To improve on my overall fitness and move up in the GC rankings for the tours."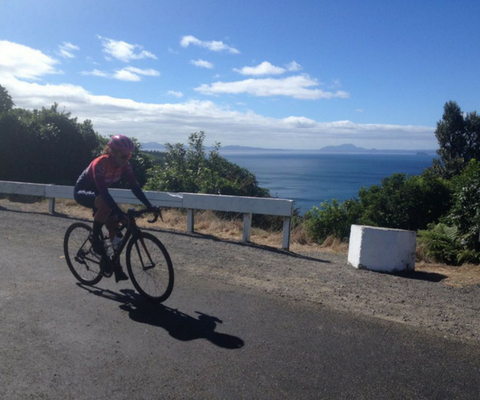 Staminade: Who was your role model as an aspiring cyclist?
Amy: "I used to look up to Sarah Ulmer. NZ Track pursuiter and 1st Kiwi to win an Olympic cycling gold. I still remember watching her win at the 2004 Olympic Games at a pub in Edinburgh!"
Staminade: What's your pre-event routine?
Amy: "To have numbers pinned as early as possible and a pre-race snack sorted. I don't like rushing these things (who does?) so the less stress before a race the better"
Staminade: How does a typical training week look for you?
Amy: "I've been self-coached for most of the past 10 years so have tried a whole host of different strategies. What I have learnt is to focus on quality with a couple of key mid-week sessions, a strength session, and a longer ride on the weekend with 1 or 2 days off/recovery. I don't mind an epic day in the saddle either – so much fun."
Staminade: Favourite part of training?
Amy: "Gives you a goal to work towards. If you don't put the work in you will not be rewarded. Like anything in life. It's also a bit of an adrenaline rush and leaves you feeling good and positive for the rest of the day."
Staminade: Hardest part of training and how you overcome the challenge?
Amy: "When I think to myself 'Why am I doing this?'…. Then I remind myself I'm training towards a goal, to get fitter, to do well in a specific race/event etc. The challenge is to continuously improve, and it takes a lot of mental strength to keep improving"
Staminade: What's your favourite flavour of Staminade?
Amy: "Wild Berry for sure!!"
Staminade: Staminade's tagline is 'First Aid for Thirst', what does this mean to you?
Amy: "Something you can trust so you can just get on with it."