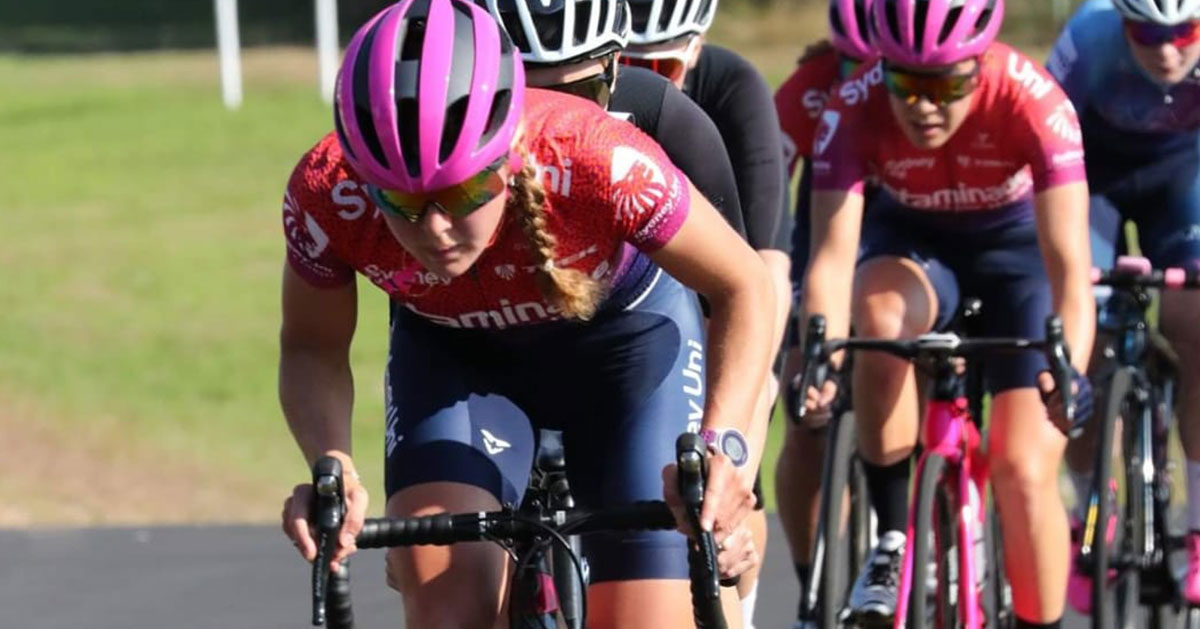 Meet Sydney Uni – Staminade Cyclist Georgia Miansarow
Staminade Welcomes Georgia Miansarow
Welcome to the newest member of the Sydney Uni – Staminade Women's Cycling Team, Georgia Miansarow.  Georgia is a former elite rower who has transitioned to cycling just this year.  She was spotted in the Sydney Uni Velo Club's women's development program and fast-tracked to elite cycling in a matter of months.  Georgia is the team's second Georgia (Georgie Whitehouse being the other) and has already been the subject of commentators' mix-ups at the races she has done with Georgie. The mix ups have also happened with another team member, Gina Ricardo.  With this in mind, the team has elected to go with G1 (Gina), G2 (Georgie) and now G3 (Georgia). We asked Georgia more about her cycling and inspiration. Meet Sydney Uni – Staminade Cyclist Georgia Miansarow.
Georgia and Cycling
Staminade: How did your love of cycling begin?
Georgia: "I started cycling as cross training for rowing in 2012 and just loved being able to spend all day on the bike, going on adventures and going fast!"
Staminade: What are your top 5 tips for young aspiring cyclists?
Georgia: "I am an aspiring cyclist! I'd say (as with any elite sport) you have to train hard and train consistently. Make sure you love what you're doing. Keep training interesting and make sure you are challenging yourself in every session- look to be uncomfortable. And don't rely on numbers, know your own body and know how to push yourself."
Staminade: What's it like being a female athlete in today's society?
Georgia: "Good. I think cycling is great because it is one of few sports where men and women can train and race together. I have been part of the Elite Athlete Program at Sydney Uni Sport & Fitness since 2017, firstly as a rower and now as a cyclist.  The program is great because it really does support women in sport as much as men.  I am also really happy to be part of the Sydney Uni – Staminade team because it is a team dedicated to providing a pathway to the elite level for women cyclists, particularly those (like me) who are part of the Sydney Uni Velo Club's women's development program."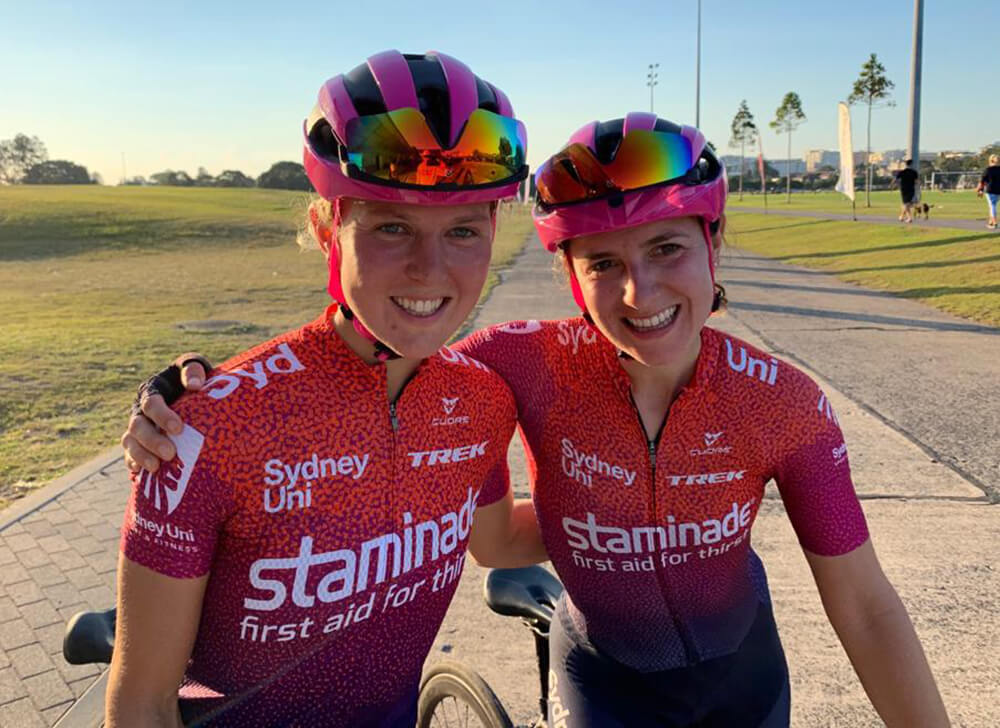 Georgia's Successes and Goals
Staminade: What has been your greatest success to date?
Georgia: "I am only new to cycling so I don't have any elite level achievements yet. I recently won the road race in the last stage of the Women's Tour of Canberra and came 2nd on General Classification. From my previous sport rowing, I have a silver medal at the world championships in light weight quad and a bronze medal at u23 Worlds in the light weight double."
Staminade: What's your ultimate cycling goal?
Georgia: "Compete and be competitive on the world stage."
Staminade: Who was your role model as an aspiring cyclist?
Georgia: "I am originally from England, so I'd have to say Bradley Wiggins and Lizzie Deighnan."
Staminade: What's your pre-event routine?
Georgia: "A long solid warm up is important for me. Having enough to eat beforehand and going to the toilet a million times!"
Georgia's Training
Staminade: How does a typical training week look for you?
Georgia: "During the week I'll ride early before work and do weights, core or run in the evenings. Weekends are long rides and whatever race is on."
Staminade: Favourite part of training?
Georgia: "Climbing."
Staminade: Hardest part of training and how you overcome the challenge?
Georgia: "Training in the cold. To overcome – wear enough layers and try to suck it up and not think about it!"
Georgia and Staminade
Staminade: What's your favourite flavour of Staminade?
Georgia: "Wild Berry. My team mates have told me about Wild Berry Staminade milkshakes, and also said that it is good on ice cream.  I have not tried either of those, yet."
Staminade: Staminade's tagline is 'First Aid for Thirst'. What does this mean to you?
Georgia: "Hydration and replenishment.  Getting both right is so important in elite sport."
You might also be interested…
No Results Found
The page you requested could not be found. Try refining your search, or use the navigation above to locate the post.