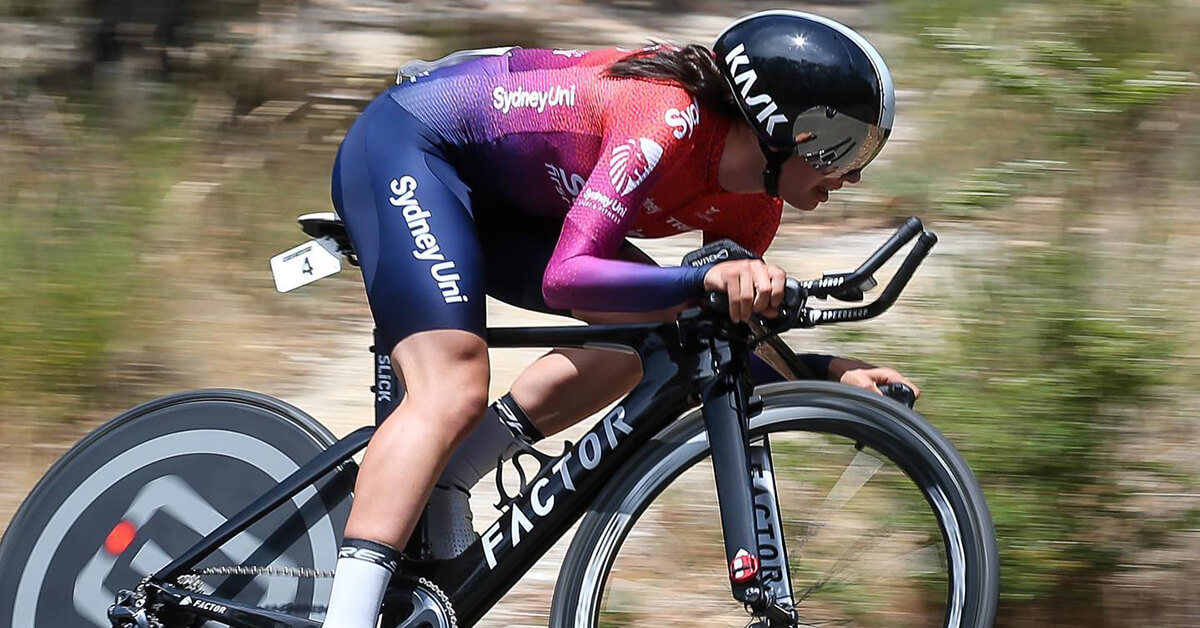 Introducing Alyssa Polites to Sydney Uni – Staminade
Sydney Uni – Staminade has welcomed Alyssa Polites to the team of riders in 2020. Alyssa has been impressive in her cycling achievements. We can't wait to see what this year brings. Staminade had a chat to Alyssa about her love of cycling in this exclusive interview. Introducing Alyssa Polites to Sydney Uni – Staminade.
How did your love of cycling begin?
Alyssa: It all started with some sibling rivalry as my brother James was gifted his first road bide to race with dad. I really wanted to have a fancy road bike like my brother and spend some time with Dad. So really the passion of cycling started with a bit of jealousy but…. soon after I was addicted and fell in love with it. I started racing when I was 10 years of age and won my first trek road bike at a Weetbix triathlon in a random draw, then I started doing some junior road races as an Under-13 rider and I've been riding ever since!
What are your top 5 tips for young aspiring cyclists?
Alyssa:  I'm still an aspiring cyclist but the main thing is to have fun with the sport, enjoy it while you're young and then maybe consider getting a little more serious about it as you get to the older age groups of juniors. Try keep a balance in life, school and friends are more important than your cycling career when you're still youthful! You don't need the top gear to be extra fast, it's okay to not have flashy gear, be grateful for what you have… I certainly didn't have a top spec bike or running gear and still don't!! Always think positive! And lastly my favourite moto from Gary Miritis "I want, I can, I will", work hard for what you love, and you'll get there even if it doesn't go to plan, IT WILL WORK OUT!
What's it like being a female athlete in today's society?
Alyssa: I'm fairly lucky in my generation of cycling, there is a ton of support for women's cycling and I've been looked after and treated fairly well amongst other cyclists. I may get a few remarks down beach road for beating men up a little incline but other than that it's all good fun and I cop it on the chin. Sport is becoming a lot more inclusive for us women and it's an exciting movement to see and be a part of.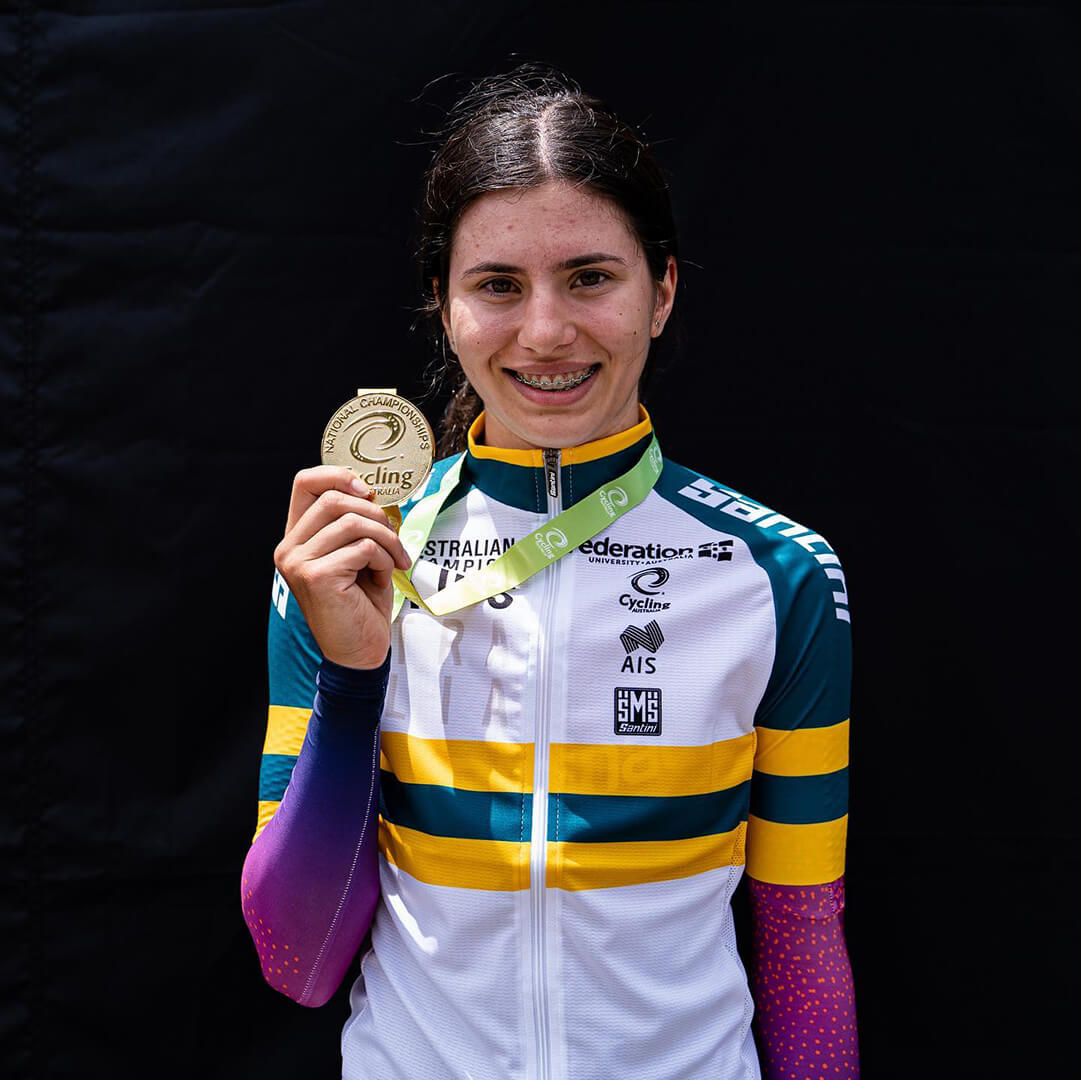 Alyssa and Cycling
What has been your greatest success to date?
Alyssa:  I've been very fortunate with my success so far, just recently I won the national individual time trial as a first year U19 this year. I finished off my U17 season with 4 national titles, 2 for the road race and individual time trial for the road titles and 2 for the track titles in the Madison and teams pursuit where we broke the national record and my Madison partner Lucinda Stewart won the first national junior Madison title ever for Victoria! I also racked up a few state medals also this season and the previous season, hopefully the pattern will continue as I move into U19's!
What's your ultimate cycling goal?
Alyssa: My dream of course would be to represent Australia in the Olympic Games or to ride professionally overseas after the next few years.
Who was your role model as an aspiring cyclist?
Alyssa: My role model was Anna Meares originally and as I became more serious and endurance based, I started to look up to Amy Cure and the rest of the women's endurance AIS team… I still look up to Anna don't worry!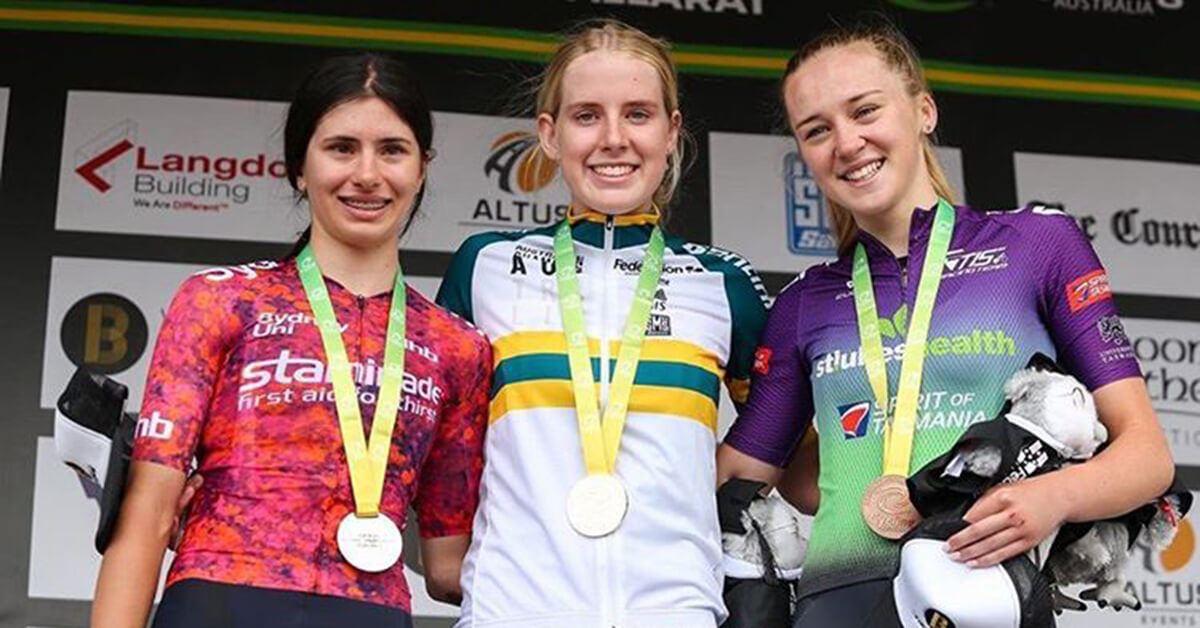 What's your pre-event routine?
Alyssa: Usually to get rid of the nerves, I go through photos on my camera roll and look through some of my highlights of my "career" to ease of self-doubt and kind of "pep" myself up that I can do this!! I always love making a playlist with some tunes that are catchy and that have some deep bass to get into the "race mode" before I do my pre-warm up roll and proper warm up. I do love a lengthy solid warm up, I eat a big brekkie (ALWAYS eat a big brekkie, I wouldn't be able to function without one otherwise) and usually 2 lunches if I can stomach it! I always try to keep hydrated throughout the day and a couple of days before race day, so yes, a lot of bathroom pit stops!
How does a typical training week look for you?
Alyssa: Mainly schoolwork and training fills up my week. I train five times a week with a bit of varied work on the bike and I also try to do some core workouts during the week.
Favourite part of training?
Alyssa: COFFEEEEEEEEEE!!!! But I must say beating my dad up some climbs in training and socialising with my training group is always a highlight of my training 😉
Hardest part of training and how you overcome the challenge?
Alyssa: Probably the mental aspect, trying to keep positive when I'm having a iffy week. My coach Hilton Clarke OAM keeps me on my toes to keep pushing through and to try ride myself out of situations when I'm feeling flat and a bit cooked. Slowly, slowly, I'm becoming a lot more head-strong and tougher as a rider thanks to persistent feedback and encouragement through the coaching Hilts provides!
What's your favourite flavour of Staminade?
Alyssa:  Ooooh, good question, I'm yet to try all of them! But I love the Lemon Lime flavour, I wouldn't mind trying the Wild Berry Rush flavour though!
Staminade's tagline is 'First Aid for Thirst', what does this mean to you?
Alyssa:  Hydration is always important especially in demanding sports like cycling, so to me this is another way of expressing of how vital it is to replenish the body's thirst and need for water to avoid dehydration.
You might also be interested…
No Results Found
The page you requested could not be found. Try refining your search, or use the navigation above to locate the post.