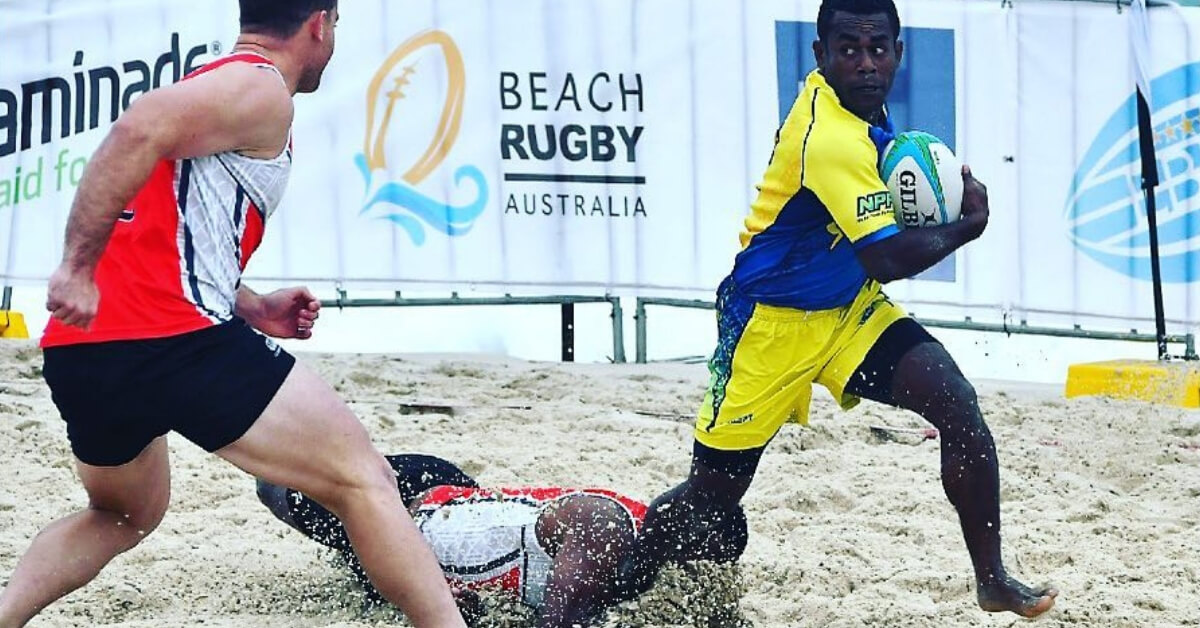 Why You'll Get Hooked on Beach Rugby
Beach rugby; it's the game you know, but not as you know it. Mysterious. Well, here's the thing; it's a combination of Rugby Union, Rugby League and Touch Football. Sounds good hey? We want to share with you why you'll get hooked on beach rugby.
What you've perhaps just played with your friends for years messing around on a beach, has turned into a real sport. It's particularly popular in Italy and there's a 7s tournament in the USA each year on a beach in Florida (the Beerfoot 7s). Now, for the second year running, there's the Beach Rugby Festival in Kirra, Gold Coast in September. Has Christmas come early? With all the beautiful beaches around Australia, we think this is a sport that is going to take off.
What's So Good About Beach Rugby?
Life's a Beach
Let's just state the obvious, you're on a beach, who doesn't love that? Only the vampires amongst us can complain about frolicking around on beautiful beaches; it's rugby in paradise. You run around for a while, build up a good sweat, and go and jump in the sea to cool down. Not too shabby hey.
Legs of Steel
If you've ever tried running on sand, you'll know it's not all that easy. Pretty early on your calves and thighs begin to burn from counteracting the uneven sand. Playing beach rugby, you're not only running on sand, you're constantly changing direction to side-step and tackle. So, whilst you're playing in paradise, you're getting a cracking leg workout in at the same time. Calves, quads, hamstrings…hello legs of steel.
Need more convincing why you'll get hooked on beach rugby?
Pain-Free
Okay, that's an exaggeration. Perhaps 'it might not hurt as much as normal rugby' is slightly more accurate. There's nothing worse than tackling or being tackled onto rock-hard ground, and here in Australia, the hot weather often leads to dry, concrete-like pitches. The English and Scottish have it easy over there with their constant rain and heavenly-soft pitches, right? Anyway, sand is a slightly less impactful surface to fall onto. We're not saying it's like landing on a doona, but it's certainly better and hopefully less painful, than cracked brown dirt.
The Rules
The pitch is 31 metres long and 25 metres wide. Teams are made up of 5 in-field players, with 3 subs. Replacements are unlimited and interchangeable without any need to call for the ref's permission. There's also some good news for you lot out there that couldn't kick if your life depended it: there are no goalposts on the pitch and kicking is not allowed at all! The scoring system is easy enough 'one try, one point', and line-puts and scrums are scrapped: play is just resumed by a free-kick. Got it?
It's like beach volleyball, and who doesn't love beach volleyball? The ball's slightly more oblong, the pitch is quite a bit bigger, and the rules are completely different. Alright, perhaps it's nothing like beach volleyball but what's not to love? Sport, beach, sea, and probably some beers! So, fancy a wee bit of beach rugger?
Staminade Beach Rugby Australia Festival
To find out more about the Beach Rugby Australia Festival, September 6-8, 2019 visit www.beachrugbyaustralia.com.au for all the latest on this amazing event. We hope to see you at Kirra Beach in September!