Abby Sneddon – Sydney Uni Women's Cyclist
Originally from the Central Coast, NSW, 24 year old Abby Sneddon has been racing bikes for three years and riding for around four. Although she may have taken up the sport later in life, her passion and drive makes her a future cyclist to watch. When she's not riding, you'll find her working full-time as a Pharmacy Dispensary Assistant, taking walks with her rescue greyhound Blue or evening out the tan lines at the beach! See what Abby has to say about her cycling career below.
Staminade: How did your love of cycling begin?
Abby: "My love for cycling began when my partner finally let me off the indoor trainer and onto the road for my very first bunch ride. The bike has taken me some wonderful places since then and challenged me in so many ways. I love the feeling of freedom I get when I ride my bike, it's like meditation."
Staminade: What are your top 5 tips for young aspiring cyclists?
Abby: 
Have fun: its quiet easy to get carried away with training and numbers that you actually forget the beauty for what cycling is!
Have balance:  After a big block of training and racing I always take a week off the bike to do the things I enjoy like catching up with my friends and spending time with family. Taking your mind off it for a week is so refreshing. It makes you more motivated for that next block of training!
Be patient: Success doesn't happen overnight. Be prepared for the good days and the not so good, it's all part of the experience and everybody goes through it.
Get a bike fit: It's so important to be fitted correctly to ensure you are comfortable on your bike so you can enjoy many long and happy kilometres.
Back yourself!
Staminade: What's it like being a female athlete in today's society?
Abby: "I believe we have come a long way in terms of equality in sport. Things are definitely changing and it's great to see women are starting to get the same recognition as the men. Coming from the domestic cycling scene however, I can still see the struggles for women's teams to get sponsors and the backing, resulting in some big teams folding in the NRS this year. It is a shame as the level of the NRS is so high and it should be a great pathway to the professional cycling scene."
Staminade: What has been your greatest success to date?
Abby: "Success means different things to different people. I've landed a couple of podiums which is always an amazing feeling, but I believe my biggest success has been being able to travel the world to race my bike. I have learnt so much from those experiences and have met so many amazing friends and I believe I am a better cyclist for that."
Staminade: What's your ultimate cycling goal?
Abby: "Last year I raced some of the USA crit series. I see myself as more of a crit racer (definitely not a climber haha) so my ultimate goal would be to do a season with a US based team. I am also really looking forward to the new format of the NRS. The level of women's cycling in Australia is so high at the moment that I will be putting my focus towards the end of the year and hoping for some big things!"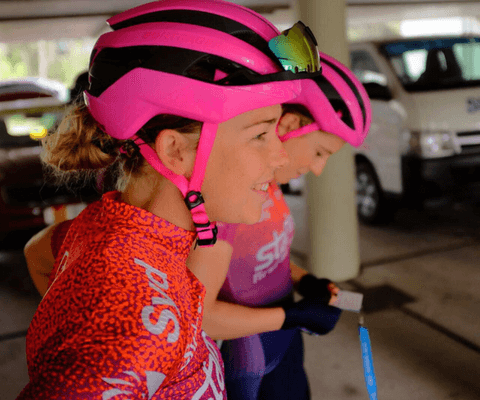 Staminade: Who was your role model as an aspiring cyclist?
Abby: "After getting to race with Peta Mullens in Europe she has always been someone I look up to. I love her straight to the point and hardworking attitude. She gets the job done, and done well. She also has such a warm and friendly personality off the bike which makes her very approachable. She has taught me a lot and I appreciate her knowledge and guidance."
Staminade: What's your pre-event routine?
Abby: "Pre-race I like to put on some tunes, have a brew and relax. I do like to have all my cycling kit set out the night before (numbers usually pinned) and nutrition ready to go."
Staminade: How does a typical training week look for you?
Abby: "Monday is usually a rest day, a chance to go for a nice long walk with blue. Tuesday to Thursday I can usually squeeze in an hour and a half before work with some structured efforts and then Friday to Sunday is where I can get in some longer rides or local club races. Quality not quantity works best for me and I'm very lucky my coach and I have a great relationship in that sometimes life just gets in the way or if it's been a big week at work he can work around anything. I also like to fit in plenty of stretching and core work!"
Staminade: Favourite part of training?
Abby: "When the efforts are done and you know you've given everything. I also like each week when the numbers go up and the effort gets easier, you know its working"
Staminade: Hardest part of training and how you overcome the challenge?
Abby: "Sometimes the hardest bit is simply getting out the door on the dark, early mornings, but once I'm out there on my bike I will always give my best. Like I said earlier not all days are great and I may not be hitting the numbers but I just remember how much I love being on my bike and just reset for the next session."
Staminade: What's your favourite flavour of Staminade?
Abby: "Lemon lime!!"
Staminade: Staminade's tagline is 'First Aid for Thirst', what does this mean to you?
Abby: "The tagline to me reads "fuel the hunger". If you're hungry for something go get it. Success will be achieved through hard work and determination."
If you want to hear more from the Sydney Uni Women's cycling team see more on our blog including this Q&A with Chloe Heffernan: https://staminade.com.au/qa-with-chloe-heffernan-sydney-uni-womens-cycling-team/