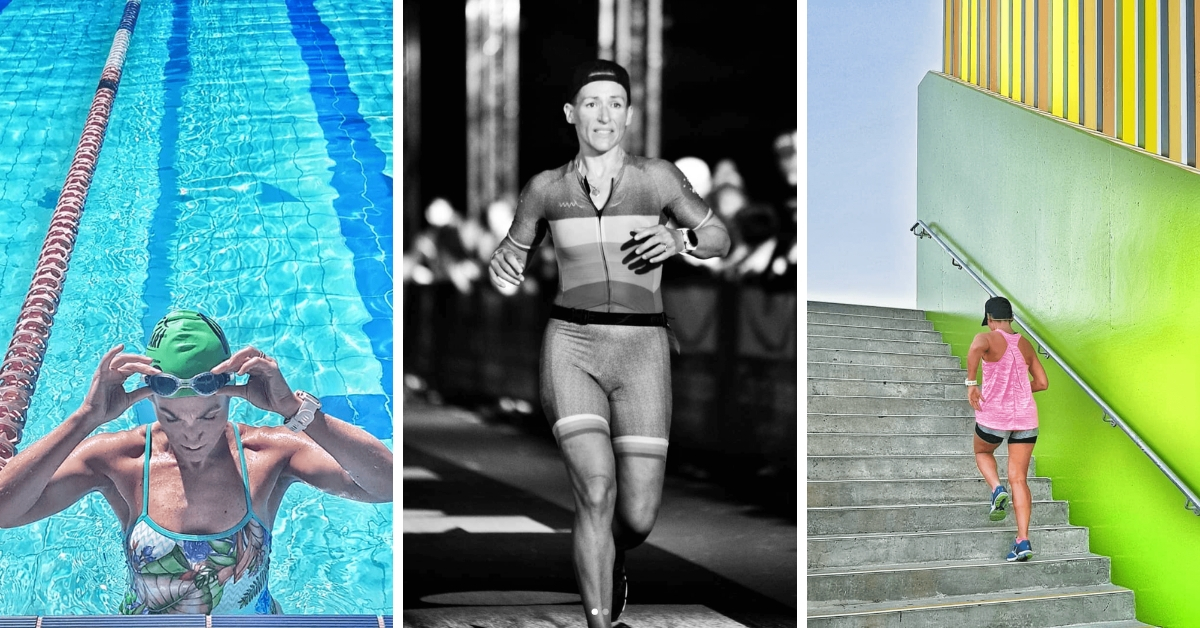 Conquering a Full IRONMAN Triathlon
In 2017, we spoke to Ineke Moyle about her triathlons, training and how she wanted to do a full IRONMAN triathlon. Well, Ineke held true to her goals and completed her first full IRONMAN recently. We had a chat to her about 2018 and how she keeps her mindset strong to reach these goals and train so hard throughout the year. 
When we spoke to you a year ago, you targeted the 2018 Busselton full IRONMAN. We were excited to see you do this! How was that experience?
I'd have to say that completing my first full IRONMAN triathlon (3.8k swim/180k ride/42.2k run) just this month exceeded all my expectations and I feel like I'm still on a high weeks later! There's something about working towards and achieving a goal that for the longest time seemed utterly impossible that changes your perspective on life, I think.  It makes you realise just how much we're physically capable of.  Of course, we were very lucky too in that Busselton turned on near perfect conditions to race in, so it was a really great day for it. I enjoyed it so much that I'm planning on going back and doing it all again in 2019 – I think I'm hooked!
What were some of the highlights of 2018 for you?
Looking back on 2018, there's no doubt that the second half of the year was very focused on IRONMAN training.  Aside from that though, 2018 also saw me really committing to and focusing on improving my swimming (certainly my weakest leg in triathlon). I took the leap and joined in with a swim squad this year and, while I was initially very apprehensive, the coach was amazing and it made a huge difference.   Outside of triathlon, we had some great family getaways – a trip to Shark Bay, Monkey Mia and Kalbarri was one of my favourites.  We saw some amazing sights exploring parts of Western Australia we hadn't visited before and made some special memories.
What's your favourite part of training?
It's hard to pick just one aspect of it that's my favourite!  It's become a way of life really and I know that I always feel better in myself – both physically and mentally – when I'm swimming, riding and running regularly.  I guess another aspect of it that I really appreciate is the friends you make through training.  I've met some wonderful people through this sport and it's great to have friends to meet up with and swim, ride or run together (plus they understand when you talk about what crazy goal, you're looking at aiming for next!). 
What's your least favourite part of training?
Perhaps the trickiest thing about training – and this isn't unique to me, I'm sure – is just trying to find time for it. It can be a bit of a juggling act, particularly when you're deep in IRONMAN training and your training plan calls for 17 or 18 hours per week. I work part time, my husband is a shift-worker and trains also, and we have three children too, so it can be a real logistical challenge at times to fit all the pieces of that puzzle together!
It takes a lot of determination to keep pushing with your training over the years. How do you keep your mindset strong and disciplined for your training?
I think a strong mindset and training go hand in hand.  When I'm training regularly, I feel better mentally and, if I am feeling a little stressed or anxious, that's usually fixed by a swim, ride or run. Surrounding yourself with the right people helps too.  My husband is a great support and, being an ex-professional athlete and Olympian, he brings an interesting perspective to things (albeit with a touch of "tough love"!) and I value his input. 
My coach is another one who has helped with the mindset side of things.  He has amazing credentials as a coach – he's a three-time world champion and an Olympian too – but beyond that, what he taught me about the power of the mind was invaluable.  I have no doubt it made a huge difference to me on IRONMAN race day – I don't think I've ever been as calm pre-race – and I was able to stay in a good headspace all day and really enjoy the experience (all thirteen and a half hours of it!).
What's your favourite Staminade flavour?
I can't go past the original Staminade flavour, Lemon Lime, that's my go-to without a doubt! Wild Berry Rush is popular in our house too.  Our eldest son is quite a keen runner these days and that seems to be his favourite.  Needless to say, Staminade doesn't last too long in our house – we go through quite a bit!
What does the Staminade tagline "First Aid For Thirst" mean to you?
To me "first aid for thirst" is about being mindful of how we hydrate before, during and even after strenuous exercise. It's widely known that electrolytes including sodium and potassium are lost from the body through sweat – and, oh, boy, will you sweat over the course of an IRONMAN triathlon! – and Staminade is far more effective at rehydrating the body than plain water. I also like that Staminade contains magnesium and, while I'm not prone to muscle cramping, I know that it plays a vital role in the body's energy metabolism.
Read the Q&A with Ineke from 2017 – https://staminade.com.au/qa-triathlete-ineke-moyle/